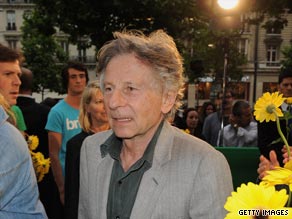 No matter where you stand on the arrest of Roman Polanski, contending he should receive leniency because he is a holocaust survivor strikes me as profoundly misplaced. Norman Geras echoes my feelings on this:
Some of the reaction to Roman Polanski's detention in Switzerland makes reference to the fact of his being a Holocaust survivor. There's one way in which this might be thought relevant to the issue but isn't. No one could seriously uphold a principle according to which laws against serious assault should not apply, or should apply more leniently, to the survivors of traumatic historical events.

There is, however, a different connection that can be drawn between this aspect of Polanksi's past and the current controversy about his arrest, and so far as I know it's one that hasn't been widely noted if it's been noted at all. As a genocide, the Holocaust was a colossal, a continent-wide, crime against humanity, as well as being composed of countless localized crimes against humanity. There is no statute of limitations for crimes against humanity. That is because of their gravity. For the same reason, in most national jurisdictions the provision for statutory limitation does not normally cover grave crimes against the person. Reference to Polanski's being a Holocaust survivor should therefore remind us that, whatever other arguments there may be against extraditing him, the fact that his offence was committed long ago isn't one of them – unless raping a child is thought not to be a serious offence.
As for my own personal view, I am glad that Polanski will be held accountable. Surprisingly to some, given my prior representation (and fondness) for Sara Jane Olson, I have no sympathy for Polanski's plight. While a friend pointed out the similarities between the two, I see none. Polanski admitted to having sex with a thirteen year old. Neither the passage of time nor the tragedy in his own life mitigate the despicable nature of his offense.
To my way of thinking, there is no violation more heinous then sexual abuse of a child. And, while I believe the criminal justice system should primarily be about rehabilitation as opposed to punishment, when it comes to the rape of a child, there must also be a punitive component to serve as a deterrent. Polanski was likely to be sentenced to 48 days in jail when he fled the United States. If that sentence had been imposed, Polanski would have been incarcerated for only 90 days for one of these most odious crimes in our society. How Polanski or any of his Hollywood defenders believe it to be an injustice to serve 3 months for rape is beyond me.