A refreshing counter-balance to our earlier post about the same-sex surrogacy debate in Israel: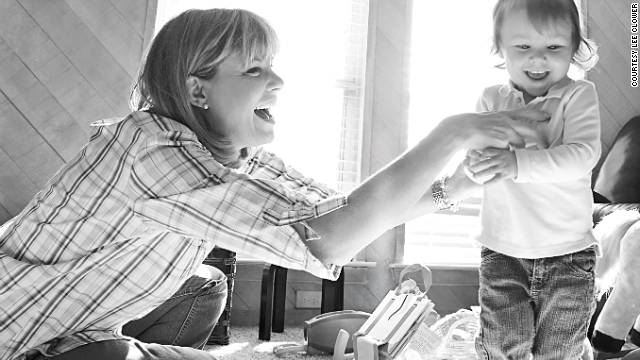 There was a time when gay parents and single adoptive mothers were unheard of, but the new norm is that almost anything works well as long as there's a dedicated adult and plenty of love:

Christopher Fraley, 42, and Victor Self, 41, Parents of 20-month-old Coco

Christopher Fraley and Victor Self have been married three times — to each other. They first exchanged vows in St. Barts in 2008, and again in South Africa on their honeymoon. Then this past summer, on July 24, 2011, they became the first same-sex couple in Rye, New York, to legally wed. Coco, their daughter, was right by their side.

Fraley and Self met in 2003. "I saw kids in my life, and Chris did, too," Self remembers. Eventually, "we decided to get married," adds Fraley, who works for an investment fund. He bought Self a ring, but didn't ask Self's mother for his hand. "Nobody is the wife," he insists. "However," he adds, "Victor and I will be offended if Coco's suitor doesn't ask us for her hand."

While their attitude toward fatherhood is traditional, the way they became dads isn't: Coco was born through a surrogate, using a donor egg. In expanding their family, Self and Fraley joined the growing number of same-sex parents in America today: somewhere between 1.5 million and 5 million, according to rough U.S. Census estimates, up from 300,000 to 500,000 in 1976.

The surrogacy process took two years: One egg donor became ill, then a first surrogate failed to get pregnant. But in February 2010, Kira, their second surrogate, gave birth to 8-pound-9-ounce Coco. "We post pictures of Coco on Facebook that Kira can look at," says Self.

Strangers are mostly respectful, which doesn't surprise Adam Pertman, executive director of the Evan B. Donaldson Adoption Institute, headquartered in New York City. "As support for legal gay marriage has grown, along with the body of research that shows same-sex parents to be just as committed, so, too, has the acceptance of gay parenthood," he says. Still, Fraley admits, people can be insensitive. "Sometimes they ask, 'Where'd you get your baby?' like we bought her at Target," he says. "I say, 'She was born, just like you.' Another person recently asked, 'Whose sperm did you use?' "

Coco may face a few awkward scenarios, too, as she grows. "Kids can sometimes look down on children from single-sex households, and tell them their family isn't real," Pertman says. "Coco may also start seeing news stories that upset her, like another state wanting to pass an amendment stigmatizing gay marriage. Chris and Victor will need to discuss these issues with her."

They've already steeled themselves for the questions she'll likely have. "Why don't I have a mommy?" may be answered with "Because you have two daddies." It helps that the definition of family is growing, just like Coco. "Is it such a big deal?" asks Fraley. "Look around. All families are different."

Jo Trizila, 40, Single Mom to Kate, 2

Jo Trizila remembers the conversation with her mom that changed her life. It was her 35th birthday, and they were talking about how some of Trizila's friends had gotten married just to have kids, and were miserable now. "I said, 'I don't want to do that. If I haven't met the right guy by the time I'm 37, what would you and Dad think if I have a baby anyway?' Mom said, 'If you can afford a child, we'll support you 100 percent.' "

By the time her 37th birthday rolled around, Trizila still hadn't met the perfect man. By then she was running a public relations firm she'd founded — the kind of success that's helping to fuel a rise in single-mom adoptions, notes Pertman, the adoption-institute executive director. "As women like Jo find good careers and their earnings grow, there's less need to find a partner to make having a family feasible."

Trizila considered getting pregnant, "but part of me was saying 'Is it worth finding a sperm donor and doing in vitro? What about adoption?' " Yet adoption posed obstacles, too. The private agencies she approached all wanted married couples.

Then Trizila got a break: A colleague told her about a facilitator in California — a private agent who works with multiple private adoption agencies on a client's behalf. "If you just approach a private agency on your own, that agency may only be in touch with a few pregnant women looking to place their baby in a good home. But because a facilitator touches base with lots of agencies, you're on the radar of about a hundred different pregnant women. In most cases, the birth mom picks the adoptive parent, so that's a huge help," Trizila explains. By the summer of 2009, she was cleared to adopt. "I was told to expect a couple of years' wait," Trizila recalls. But that September, a woman due to give birth shortly selected her to raise her child.

That very same year, on December 5, Trizila became little Kate's mother. "I'd never understood how you could love someone you'd never met. But I got it the moment I held Kate," she says. Rocking her daughter in the maternity ward, she thought back to her own hospital stay as a teen, for a life-threatening brain abscess and aplastic anemia. "I'd always wondered why I had survived.That night with Kate, a voice in my head said, 'You survived to be Kate's mom.' "

While she's a single mother, there are plenty of people in Kate's orbit. Trizila is close with Kate's three older sisters and great-grandparents. As for her own family? "They're unfreakingbelievable!" she says. Her dad's a doting grandfather, and her mom takes Kate to the Montessori school she attends every morning. Several male friends are in the mix, too. One "uncle" takes Kate to swim school; Trizila had to ask another to stop buying so many stuffed animals.

Still, solo parenting has drawbacks. "There's no one to ask 'Am I doing the right thing?' " Trizila says. It's also annoying when she gets asked "Are you dating anyone?" She still hopes to meet a great guy, but is happy being single for the time being. "Are Kate and I that unusual?" she muses. "Look at the divorce statistics. There are a lot of single moms — they just didn't adopt." (In fact, about one quarter of all kids are raised by solo parents.) Yet she'd recommend her own path to parenthood to anyone. "If I convince just one single woman out there who's yearning for a child to go for it, this interview will have been worthwhile."

Pat Byrnes, 52, and Lisa Madigan, 45, stay-at-home dad and working mom to Lucy, 3, and Rebecca, 6

Don't call him Mr. Mom. Seriously. That's all Pat Byrnes, of Chicago, asks. "I'm nobody's substitute, and I'm doing this on purpose," he says. Doing "this" means being the at-home parent to two daughters — Rebecca and Lucy — while his wife, Lisa, heads to the office. At home, her title is Mom. At work, she goes by Attorney General of Illinois.

If Lisa's brave for tackling the state's toughest issues, Pat was equally gutsy in enlisting for stay-at-home-dad (SAHD) duty, especially given how he did it: during a live TV interview in 2002. "The interviewer asked Lisa, 'So, if you win, who's going to take care of your kids?' I jumped in and replied, 'I work at home. I make my own hours.' "Truth be told, Pat, a cartoonist for The New Yorker, had never talked it over with Lisa before. But there was no backing down after that: "A million people in their living rooms had just witnessed me committing to being an at-home dad," Pat says. There are a lot of guys earning their SAHD stripes these days. "The recession has had a big impact," says Scott Haltzman, M.D., coauthor of "The Secrets of Happily Married Men and The Secrets of Happy Families." In fact, men held roughly 70 percent of the jobs lost during the socalled "man-cession." Many have found themselves in the at-home role involuntarily. "At the same time, we're slowly rejecting the old stigma that if a guy is home with the kids, there's something wrong with him," Dr. Haltzman says.

Three office terms, one happy marriage, and two kids later, "I'm hanging in there," says Pat. In recent years, he's scaled back on his cartooning to spend his days taking Lucy to playdates and on zoo trips, with Rebecca joining in after school. Now that Lucy is in preschool, "I'm looking forward to having a bit more time to myself," he says. "A haircut would be nice."

It's true: The SAHD does face some interesting challenges (not that the SAHM doesn't, of course). For starters, in Pat's neck of the woods at least, there don't seem to be many other guys to hang out with during the day. "Like Pat, many men find themselves shut out of the social infrastructure that surrounds at-home parents, since they're still mostly female," Dr. Haltzman points out.

A SAHD arrangement can be challenging for Mom, too, since she relinquishes some of her traditional duties. In 2010 researchers at the University of Texas, Austin, interviewed 78 dual-earner couples with 8-month-old infants. They found that a mother's self-esteem was lowered if she thought the father was capable, hands on, and spending more time with the kids. "Mom may prefer the kids' baths to be at a certain time, or that they be dressed a certain way, but Dad has his own standards," Dr. Haltzman says. "Both parties have to be extra understanding and compassionate."

Lisa and Pat aren't immune to bumps along the way. "Sometimes the girls ask why Mommy has to go to her job," Pat says. "I tell them that a lot of kids don't get to have either parent at home, so be happy." Lisa gasps. "You don't say that, do you?" "I do," Pat says. "Luckily," he adds, "they still call for you at night when they're throwing up."
Reprinted from Parenting.com.