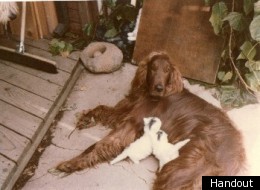 Things are getting ugly in this election cycle:
A top adviser on Rick Santorum's campaign said Mitt Romney's bizarre treatment of the family dog 30 years ago shows the former Massachusetts governor has poor judgment.

"Quite frankly, I'm not sure I'm going to listen to a value judgment of a guy who strapped his own dog on the top of a car and went hurling down the highway," Santorum adviser John Brabender said on CNN's "Starting Point," in response to a question about Romney's allegation that the Santorum campaign is "desperate."

"For Mitt Romney to be out there, saying that this is desperate," Brabender continued, "is an insult also to the voters in places like Mississippi and Alabama who evidently didn't get the Romney desperate memo."

Brabender's not the only one who thinks Romney's treatment of the family dog, Seamus, showed poor judgment. Shortly after the Boston Globe reported in 2007 that Romney put his dog's kennel on the roof of the car for a 12-hour drive to Canada, Alabama resident Scott Crider launched an internet-based movement called Dogs Against Romney. The group's Facebook page now has more than 37,000 fans.

"I was genuinely offended someone would strap a dog to the roof of a car," Crider told HuffPost this week.

For his part, Romney has maintained the dog loved riding on top of the car: "He scrambled up there every time we went on trips."

Seamus could not be reached for comment.
Was this animal cruelty? In my mind, yes. Is it something that should be made part of the political calculus in selecting a presidential candidate? Probably not as there are plenty of other reasons not to vote for Governor Romney. Though I would like to know how Seamus could survive on the roof of that car in an "airtight" kennel!