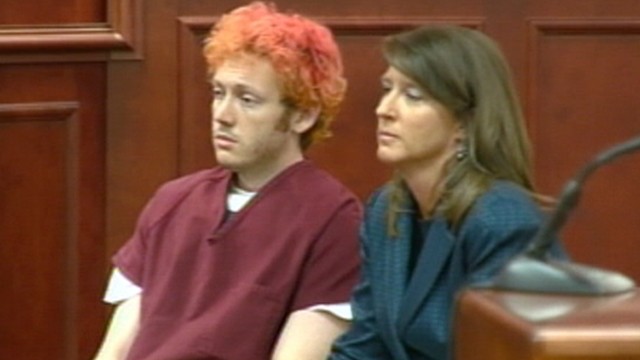 Given his appearance today, it certainly looks as if the groundwork is being laid for an insanity defense:
James Holmes, the gunman accused of opening fire at a Colorado movie theater, appeared dazed in court today, seen in public for the first time since he allegedly killed 12 people and wounded another 58 during the showing of the new Batman movie. Holmes, 24, appeared in court today unshaven with a shock of dyed reddish-orange hair, and a prison jumpsuit that appeared to conceal a bulletproof vest. He said nothing in the courtroom and spent much of the hearing looking down, his head drooping at times. At times he went bug-eyed, and other times they appeared to close as if nodding off.

Holmes was not arraigned today, but he is expected to return to court next week, where he will be formally charged and enter a plea. Prosecutors are considering pursuing a death penalty case against Holmes. A decision on charging Holmes with capital murder has not yet been made, but Arapahoe County District Attorney Carol Chambers told reporters today she is talking with victims and their family members about it.

There are currently only three people on Colorado's death row, and two of them were put there by Chambers and her team. The last execution took place in 1997. Nevertheless, experts expect prosecutors to seek the death penalty when Holmes is formally charged later this week. Today was the first time Holmes has been seen in public since his arrest following a deadly rampage at a midnight screening of the "The Dark Knight Rises" on Friday.

"He has harmed so many people," Police Chief Daniel Oates said. "Not only the victims, but all of their extended families. So I think it will be very hard." Oates also told ABC News that Holmes' parents have remained silent. "They're not talking to us right now," he said. "Maybe that will change, but right now they are not talking to us."

The police chief told ABC News that his team is getting significant help from the FBI's behavioral analysts in trying to figure out what could have changed Holmes from a promising young student to a suspect in one of the largest mass shootings in U.S. history. Authorities found a computer and Batman poster and a Batman mask from the comic books in his apartment, according to sources, ABC News reported. "I was struck by one source today who said that this 'was really like a mad scientist, really like a villain in a movie,'" Thomas said. "We are being told by sources that they have found the computer, and also a poster of Batman."

ABC News learned this weekend that Holmes apparently applied online for a membership at a local gun range last month. On the application, he apparently said he did not use drugs and was not a convicted felon. When Glenn Rotkovich, who owns the Lead Valley Range in Byers, Colo., called him to follow up, he said, he got a "bizarre," Batman-inspired voicemail message. He told his staff not to allow Holmes into the club if he showed up for an orientation.

ABC News early Sunday obtained exclusive video and photos of Holmes as a thin teenager in an oversized shirt from a science camp six years ago at Miramar College in San Diego. "Over the course of the summer, I've been working with a temporal illusion. It's an illusion that allows you to change the past," Holmes said in the video. By most accounts, Holmes lived the life of a normal teen, with a particular interest in science.